Welcome to the World of Cars Wiki!
The World of Cars Wiki is an online encyclopedia powered by Wikia that covers anything and everything to do with the Cars series, a franchise of media created by Pixar and its affiliates. Here you will find over 2,000 articles relating to Cars, including the series' media, characters, locations, songs, merchandise, and more! If you are new to the wiki, please take a look at our rules and policies to become aware of the rules and regulations we would like you to follow. Thank you for coming to our wiki, and have fun!
Thank you — The World of Cars Wiki Administration
Featured Article

Cars: Mater-National Championship is the third installment in the Cars video game franchise, as well as the sequel to Cars: The Video Game. It was released on October 29, 2007 for the Wii, Nintendo DS, Game Boy Advance, Xbox 360, PC, PlayStation 2, and PlayStation 3.

Lightning McQueen is hosting an international championship in Radiator Springs, to celebrate the construction of his new racing stadium and headquarters. While reporting about the event on television, Mater forgets his lines and calls it the "Mater-National Championship." Several international racing superstars arrive in Radiator Springs and befriend McQueen, including Giovanni, an Italian Ferrari, Otto Von Fassenbottom, a German endurance racer, Gudmund, a charismatic Swedish competitor, and Koji, a Japanese drift racer.




Community Poll

Which of the following best describes your feelings about the first Cars 3 teaser trailer?

Select one of the choices below if you would like. You may only vote once.

 




Cars-Related News

01:31

Cars 3 Extended Sneak Peek – In Theatres in 3D June 16

On January 9, 2017, a Cars 3 extended look (right) premiered on ESPN and online. The trailer contains all footage from the first teaser trailer, with an additional fifty seconds of film footage.
On January 5, 2017, three new videos of Cruz Ramirez, Jackson Storm and Lightning McQueen were revealed, along with Ramirez and Storm's voice actors being confirmed to be Cristela Alonzo and Armie Hammer respectively.
Starting on December 31, 2016, American sports channels began airing fifteen-second commercials that advertise a brand-new exclusive look at Cars 3, which will be aired at 8:00 PM EST on January 9, 2017 during the college football playoff national championship on ESPN.
On November 21, 2016, the first teaser trailer for Cars 3 was released on Pixar Animation Studios' official YouTube channel.
On May 30, 2016, Brian Fee confirmed he is the director of Cars 3, along with revealing further plot details and two new characters, Cruz Ramirez and Jackson Storm.
On May 10, 2016, Disney officially confirmed that they will end the Disney Infinity series after the releases of the Alice Through the Looking Glass and Finding Dory figures.
On May 6, 2016, Amazon Mexico revealed the Nemo figure for Disney Infinity: 3.0 Edition, along with the Finding Nemo sky and terrain Power Discs from the first game included in the packaging.
The Alice, Mad Hatter and Time figures for Disney Infinity: 3.0 Edition were revealed to be released on May 24, 2016, while a figure for Nemo was leaked.






Be sure to check out our affiliated wikis!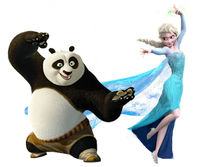 Ad blocker interference detected!
Wikia is a free-to-use site that makes money from advertising. We have a modified experience for viewers using ad blockers

Wikia is not accessible if you've made further modifications. Remove the custom ad blocker rule(s) and the page will load as expected.