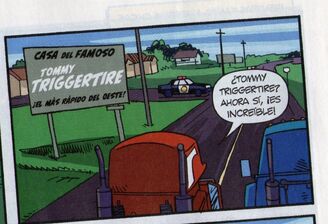 He is mentioned in the Cars comic book series.
Bio
As the sign says, Tommy Triggertire appears to be west fastest car. The Deputy Sheriff tries to catch him after hearing a report of him, but the other police cars say that the whole thing is just an attraction for the tourists.
Ad blocker interference detected!
Wikia is a free-to-use site that makes money from advertising. We have a modified experience for viewers using ad blockers

Wikia is not accessible if you've made further modifications. Remove the custom ad blocker rule(s) and the page will load as expected.