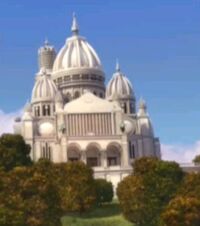 The
Sacré-Cœur Basilica
is a location seen briefly in
Cars 2
.
It is a famous church located in Paris, France. It is a car-ified version of the real Sacré-Cœur Basilica and it appears in the Paris scene as a background of a painter who paint two cars. The Basilica is very similar to the real church in Paris. The garden in front of it is the same of the real Basilica.I visited the Basillica.
Gallery
Ad blocker interference detected!
Wikia is a free-to-use site that makes money from advertising. We have a modified experience for viewers using ad blockers

Wikia is not accessible if you've made further modifications. Remove the custom ad blocker rule(s) and the page will load as expected.