Rotor Turbosky
General Information
Gender

Male

Color

Light blue, white

Eye Color

Light blue

Occupation

Dinoco helicopter

Series Information
First Appearance
Performer

Unknown
Rotor Turbosky is a helicopter that works for Dinoco. He is a Whirlybird Liftalot, a model considered as high performance. He is painted blue, with the Dinoco logo on either side above his doors, as well as the King's logo. He has a large black propeller, and two blue fins next to his "nose".
History
Cars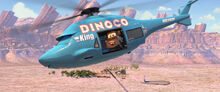 In Cars, Rotor appears at the end of the film, when Lightning McQueen fulfills his promise to his friend, Mater, by asking Tex Dinoco, the owner of Dinoco, for a helicopter ride, which is apparent at the end of the movie when Mater is flying over Radiator Springs, happily singing.
Cars: Radiator Springs Adventures
In Cars: Radiator Springs Adventures in an Activity called Chopper-Hopper, where Mater is waiting for him to give him a ride. In the game, the player has to move Rotor up and down while avoiding clouds and mountains.
Disney Infinity
In Disney Infinity, Rotor delivers the toys purchased from the Toy Store in the Cars Play Set.
Cars: Fast as Lightning
In Cars: Fast as Lightning, Rotor can be seen on top of the Dinoco stand accessory. He transports characters whenever there is an active event.
Appearances
Profiles and statistics
Cars
Gallery
Names in other languages
| Language | Name | Meaning |
| --- | --- | --- |
| Polish | Rotor Turbosky | Rotor Turbosky |
References
Ad blocker interference detected!
Wikia is a free-to-use site that makes money from advertising. We have a modified experience for viewers using ad blockers

Wikia is not accessible if you've made further modifications. Remove the custom ad blocker rule(s) and the page will load as expected.