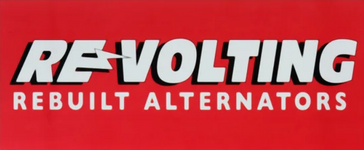 Re-Volting is a trademark for rebuilt alternators and batteries, for when cars' alternators start to fail. Davey Apex, the Piston Cup racer, beared this sponsor, as well as Davey's reserve driver, Bashman. Between Cars and Cars 3, T.G. Castlenut replaces Davey Apex and has changed from 84 to 48. But, T.G Castlenut was replaced by Aaron Clocker. In the 1950's Re-Volting sponsored LeRoy Newing with the number #300.
Gallery
Trivia
Re-Volting appears as a batteries mark in Pixar's film Toy Story 3.
In 2006 the Re-Volting racers beared #84. In 2017 they were #48. In the 1950s they were #300.
Re-Volting is the sponsor with the most Racers shown, with 5 in total (Davey, Bashman, Castlenut, Aaron and the 1950 Rookie)
Ad blocker interference detected!
Wikia is a free-to-use site that makes money from advertising. We have a modified experience for viewers using ad blockers

Wikia is not accessible if you've made further modifications. Remove the custom ad blocker rule(s) and the page will load as expected.