"Me be jammin' now mahn!"
—Rasta Carian


Rasta Carian
General Information
Gender

Male

Color

Yellow, red, green

Eye Color

Brown

Occupation

Monster Truck Wrestler

Series Information
First Appearance
Performer
Rasta Carian is a Jamaican monster truck wrestler.
Bio
The Rasta Carian is a Rastafarian monster truck with a false dreadlock wig (rasta hair). He had Mater in his signature gridlock in the second round, but Mater used his strength to pull the dreadlocks off and free himself, flipping the wrestler in the process.
Cars: Toons: Mater's Tall Tales: The Video Game
In Cars Toons: Mater's Tall Tales: The Video Game, I-Screamer appears in the Monster Truck Mater set of games.
Cars 3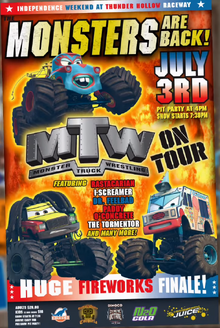 In
Cars 3
, hr appears on MTW poster in
Thunder Hollow
bar.
Appearances
Gallery
Referenses
Maybe it's a referense to Bob Marley.
Ad blocker interference detected!
Wikia is a free-to-use site that makes money from advertising. We have a modified experience for viewers using ad blockers

Wikia is not accessible if you've made further modifications. Remove the custom ad blocker rule(s) and the page will load as expected.