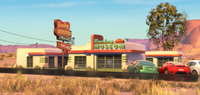 The Racing Museum (previously the Glenrio Motel) is a museum found in Radiator Springs in Cars. A whole wing was devoted to Doc Hudson. It is also seen in Cars 2, when McQueen shows his new Piston Cup Trophy, as well as in the background. But in Cars: The Video Game, it is shown as an abandoned building. It also appears in some other video games, and in the background in some Cars Toons episodes.
Ad blocker interference detected!
Wikia is a free-to-use site that makes money from advertising. We have a modified experience for viewers using ad blockers

Wikia is not accessible if you've made further modifications. Remove the custom ad blocker rule(s) and the page will load as expected.