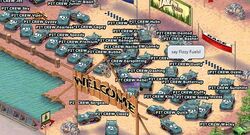 Pit Crew
Occupation: World of Cars Admins
The Pit Crew is a character in World of Cars Online.
Bio
The Pit Crew are the crew of admins working for the World of Cars Online game. Their names always start with Pit Crew. The fastest car is Pit Crew Fluffy, who thinks he is a hot shot racer.
Ad blocker interference detected!
Wikia is a free-to-use site that makes money from advertising. We have a modified experience for viewers using ad blockers

Wikia is not accessible if you've made further modifications. Remove the custom ad blocker rule(s) and the page will load as expected.