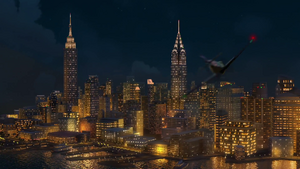 New York City
is one of the greatest cities in the
United States
. It is located on the east coast, and there are plenty of things to do, like shows, restaurants and
Central Park
.
History
Ciao, America!
New York appears in "The World of Cars" book, in Luigi and Guido's story "Ciao, America!" When Luigi and Guido arrived to America, at New York City, they visited the Statue of Liberty and Central Park. They later decided to continue their trip to Luigi's uncle in Radiator Springs.
Cars 2
Detroit, a city from New York, is mentioned by J. Curby Gremlin in Cars 2. In Curby's bio, it is said that he used to work as a maitre d' of a flagship restaurant, and that he would soak in the city's best shows.
Planes
In Planes, the John F. Kennedy International Airport appears as the location of the Wings Around the Globe pit row that Dusty Crophopper struggles to find until being given directions by Tripp. The start of the first race then takes place at the airport, with the final leg back to New York.
Places in New York City
Gallery
Ad blocker interference detected!
Wikia is a free-to-use site that makes money from advertising. We have a modified experience for viewers using ad blockers

Wikia is not accessible if you've made further modifications. Remove the custom ad blocker rule(s) and the page will load as expected.