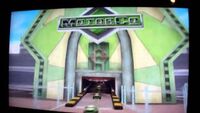 MotorCo is the factory in Autovia which turns cars into super techno cars, painted completely white, called VIN.
Bio
In Cars: Race-O-Rama, after being beaten by Lightning McQueen in Santa Carburera, Chick Hicks' students decided to turn themselves into these super techno-equipped cars, ready to race against McQueen in Autovia.
Trivia
According to a piece of concept art featured in the game, the MotorCo. factory was originally intended to be built right next to a mountain.
Gallery
Ad blocker interference detected!
Wikia is a free-to-use site that makes money from advertising. We have a modified experience for viewers using ad blockers

Wikia is not accessible if you've made further modifications. Remove the custom ad blocker rule(s) and the page will load as expected.