Monster Truck Wrestling (MTW) is the most famous wrestling championship, where a lot of monster trucks fight for the victory.
Matches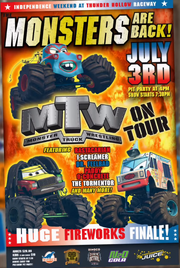 All the matches are show on the TV. The matches many times are showed at
Motor Speedway of the South
. ON 3 July 2017 MTW organised event on
Thunder Hollow Speedway
.
Wrestlers
Trivia
Gallery
Ad blocker interference detected!
Wikia is a free-to-use site that makes money from advertising. We have a modified experience for viewers using ad blockers

Wikia is not accessible if you've made further modifications. Remove the custom ad blocker rule(s) and the page will load as expected.