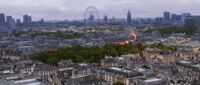 London is a British city located in England, and the location of the third World Grand Prix race in Cars 2.
London is the capital city of the United Kingdom. The town has a rich past, and it still has numerous historical buildings and monuments. It hosts the last race of the World Grand Prix.
The race track passes, as for the two other races, on the streets of the host town, in this case notably borrowing the Mall, and getting in front of Buckingham Palace.
London also appears in Cars 2: The Video Game, where many races and other missions take place.
Places
Ways and streets
Residents
Gallery
Trivia
Ad blocker interference detected!
Wikia is a free-to-use site that makes money from advertising. We have a modified experience for viewers using ad blockers

Wikia is not accessible if you've made further modifications. Remove the custom ad blocker rule(s) and the page will load as expected.