Leak Less Hauler
General Information
Gender

Male

Color

Yellow, black, white

Eye Color

Green

Occupation

Claude Scruggs' Hauler

Series Information
First Appearance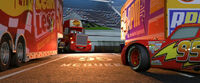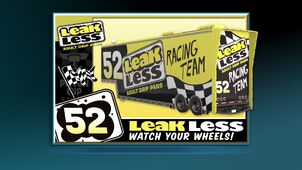 Leak Less Hauler is a hauler that works for the Leak Less racing team as Claude Scruggs' transporter. He is an Aeroliner Semi Hauler that is painted yellow, with the Leak Less logo on his cap. His trailer is painted yellow and black, with the number 52 painted in the black section, and the Leak Less logo in the yellow section, along with the words "Racing team".
Though Leak Less Hauler himself does not appear in Cars, his trailer does, parked at the Motor Speedway of the South.
Names in other languages
| Language | Name | Meaning |
| --- | --- | --- |
| French | Leak Less Hauler | Leak Less Hauler |
Ad blocker interference detected!
Wikia is a free-to-use site that makes money from advertising. We have a modified experience for viewers using ad blockers

Wikia is not accessible if you've made further modifications. Remove the custom ad blocker rule(s) and the page will load as expected.