Jerry Recycled Batteries
General Information
Gender

Male

Color

Red

Eye Color

Blue

Occupation

Trucker
Recycled Batteries Hauler

Aliases

Peterbilt

Series Information
First Appearance
Performer
—Jerry Recycled Batteries, Cars
Jerry Recycled Batteries, also known as Peterbilt, is a character that debuted in Cars. He is the transporter for products of the company "Recycled Batteries".
History
Cars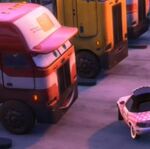 In 
Cars
, when
Lightning McQueen
wakes up in the middle of the highway after falling out of
Mack
's trailer, Lightning attempts to find Mack, and notices a truck turning on one of the exits. Lightning, believing this Mack, starts racing toward the hauler, only to discover that it is actually Jerry. The Peterbilt scolds Lightning for mistaking him for a Mack truck, and grumpily drives off.
Cars Toons
Heavy Metal Mater
In Heavy Metal Mater, he appears as one of the trucks at Top Down Truckstop watching Mater and his band perform. However, in this episode, Jerry has a white stripe across his sides and front, and a white cap instead of a red one.
General information
Physical description
Jerry is a large Peterbilt Semi Hauler, a model that is based on a Cabover Engine Peterbilt 352. Although he is rather rusty, his maroon color is still visible, which is present on both him and his trailer. On his cap and trailer doors are pictures of recycled batteries. He has a grey bumper and rims.
Personality and traits
Jerry is grumpy and temperamental, and gets angrily easy, especially when others mistake him for a Mack truck.
Appearances
Profiles and statistics
Cars
Bios

"Jerry's a pretty easygoing guy. Nothing makes him happier than running routes on the open road. No one to report to, no need to wash. It's the best! There's only one thing that can set him in a bad mood, and that's being mistaken for a Mack truck. After all, he's a Peterbilt and proud of it!"
Portrayals
Gallery
Names in other languages
| Language | Name | Meaning |
| --- | --- | --- |
| French | Jerry Recycled Batteries | Jerry Recycled Batteries |
Trivia
Jerry is Joe Ranft's final speaking part for Pixar before his death, since Red did not have any dialogue in the film except for crying noises.
The designs on his trailer were designed by John Lasseter's son.
Ad blocker interference detected!
Wikia is a free-to-use site that makes money from advertising. We have a modified experience for viewers using ad blockers

Wikia is not accessible if you've made further modifications. Remove the custom ad blocker rule(s) and the page will load as expected.