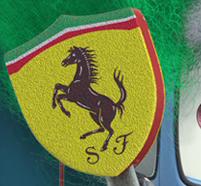 Ferrari
is an
Italian
car company mark of high luxury and sporty cars. The company makes road cars and race cars.
It is sponsor of Testa Rossa in Formula One races.
The mark appears in Cars as Luigi and Guido's favorite car company and they have a lot of Ferrari stuff. A lot of Ferraris appear in Cars 2 at the Tokyo race party and Porto Corsa.
Ferrari models
Ferrari cars
Trivia
Ferrari's logo is an uncar-ified black horse, just as the real Ferrari logo.
Gallery
Ad blocker interference detected!
Wikia is a free-to-use site that makes money from advertising. We have a modified experience for viewers using ad blockers

Wikia is not accessible if you've made further modifications. Remove the custom ad blocker rule(s) and the page will load as expected.