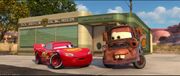 Doc's Clinic
is a doctor's office located in
Radiator Springs
. Before deceasing,
Doc
worked here.
History
In Cars, Doc's clinic is the doctor's office in Radiator Springs, where Doc Hudson works and lives.
In Cars: The Video Game and Cars: Mater-National Championship, nothing has really changed. However, it is assumed that the business is way more popular now.
It closed down in Cars 2 and was made into a museum about Hudson.
Appearance
The clinic is a big white building, with two large doors with windows. Above the doors are the words "Doctor Hudson - Dr. of Internal Combustion".
Trivia
Doc keeps his and Lightning's trophies on the windowsill.
Something strange is that the building is virtually very small, yet it has Doc's office and his huge garage full of junk.
Ad blocker interference detected!
Wikia is a free-to-use site that makes money from advertising. We have a modified experience for viewers using ad blockers

Wikia is not accessible if you've made further modifications. Remove the custom ad blocker rule(s) and the page will load as expected.