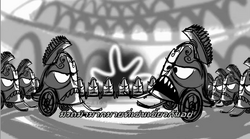 Chariots
Occupation: Gladiators
Performer: Scott Morse
Chariots were unproduced characters in Mater's Tall Tales: Backwards to the Forwards, but the idea was later dropped.
The chariots are the earliest and simplest type of cars, used in both peace and war as the chief vehicle of many ancient peoples. When Mater was time traveling, he runs into a bunch of them and they got very angry.
"Pit Stop!"


This article is in need of a pit stop, so it can be at full speed. You can help Guido by expanding this page.