WARNING!
This article or section contains spoilers regarding an upcoming or recently released product. For those who would like to avoid said information, please turn back or proceed with caution.
"I mean, if you do, you gotta be clean, because even here, in hillbilly hell, we have standards."
This article or section pertains to an upcoming product. As a result, all contributions to the article must be accompanied by at least one source to back information. Any unsourced information will be removed immediately.


Cars 3
Film Information
Directed By
Produced By
Screenplay By
Music By
Theater Release

June 16, 2017[5]

Film Guide
Previous
"From this moment, everything will change."
—Tagline from the Cars 3 teaser trailer[6]
Cars 3 is the upcoming third film in the Cars series, directed by Brian Fee.[1] On October 17, 2013, Michael Wallis confirmed some details about the film, including that the film would take place on California's Route 99.[7] In March 2014, Disney officially confirmed that Pixar is in pre-production of the third Cars film.[8] In October 2014, John Lasseter revealed at the Tokyo International Film Festival that the film will feature a tribute to Hayao Miyazaki's film The Castle of Cagliostro in a form of an old Citroën 2CV.[9]
The film was implied at the 2015 São Paulo Disney Expo to be released in 2018,[10] before Lasseter later said in an interview with Autoweek that it would either be released in summer 2018 or 2019.[11] On October 8, 2015, Disney confirmed the release date to be June 16, 2017, pushing Toy Story 4 back by a year.[5]
Story
Official synopsis
"Blindsided by a new generation of blazing-fast racers, the legendary Lightning McQueen (voice of Owen Wilson) is suddenly pushed out of the sport he loves. To get back in the game, he will need the help of an eager young race technician, Cruz Ramirez, with her own plan to win, plus inspiration from the late Fabulous Hudson Hornet and a few unexpected turns. Proving that #95 isn't through yet will test the heart of a champion on Piston Cup Racing's biggest stage!"[6]
Additional details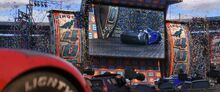 During the 2017 Piston Cup season, several new rookies have made their debut. Among them is Jackson Storm, a next-generation custom-built race car who has received advanced simulation training, and possesses incredible racing abilities. The rookie develops a rivalry with racing veteran Lightning McQueen, who struggles to beat Storm. Storm receives at least three victories throughout the season, including at the Dinoco 400 at the Motor Speedway of the South.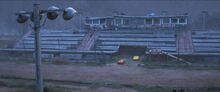 At one point during the racing season, McQueen suffers a serious accident, receiving immense damage and injuries. During his recovery, McQueen turns to Rust-eze Racing Center technician Cruz Ramirez, who assists her idol in training to beat Storm at the upcoming Florida 500 event. Their efforts include visiting the Thomasville Speedway, an abandoned Piston Cup race track.[12]
The film also involves Route 99, a road that runs through central California. According to John Lasseter, the film will feature an old Citroën 2CV that pays tribute to Hayao Miyazaki's film The Castle of Cagliostro.[9]
Cast
Characters
Returning characters
It is possible that Ralph Carlow, Lee Jr., Darren Leadfoot, Johnny Blamer, Murray Clutchburn, Todd Marcus, Misti Motorkrass, and/or Ponchy Wipeout may appear, as cars with similar appearances to them appear in trailers.[6]
New characters
An old Citroën 2CV[9]
Several new Piston Cup racers[12]
Various racing fans[12]
A white pick-up truck serving as a flag waver[12]
An announcer[12]
Highway travelers[12]
Staff
Michael Wallis implied that he will have some role in the film, most likely as the voice actor of Sheriff.[7] Daniel Gerson was also reported to be one of the screenwriters when he died on February 6, 2016.[3] During an interview with The Advertiser, Randy Newman confirmed he will be the composer.[4] According to USA Today, Brian Fee will be the director.[1] Kevin Reher was also revealed to be the producer, according to Disney's Twitter account for Latin America.[2]
Marketing
The first teaser trailer for Cars 3 was released on Pixar Animation Studios' official YouTube channel on November 21, 2016, and was shown before theatrical showings of Disney's animated film Moana, beginning on November 22, 2016.[6][18] The teaser depicts a race at the Los Angeles International Speedway, with various shots of Piston Cup racers, including Lightning McQueen and Jackson Storm. McQueen is leading the race when his tire blows out, and he suffers a career-jeopardizing crash.
Beginning December 31, 2016, American sports channels began airing commercials advertising a new exclusive look at the film, which would be aired at 8:00 PM EST on January 9, 2017 during the college football playoff national championship on ESPN.[19] The extended look included all of the footage from the first teaser trailer, with an additional fifty seconds of film footage.[20]
On January 5, 2017, Pixar's social media pages released three teaser videos giving a detailed look at the models of McQueen, Storm, and Ramirez, in addition to revealing Armie Hammer and Cristela Alonzo as Storm's and Ramirez' voice actors, respectively.[14]
On January 24, 2017, Avalanche Software, the company that produced the Disney Infinity games, announced they were working on a video game for the film alongside Warner Bros. Interactive Entertainment, on the same day that Avalanche announced their reopening.[21]
On January 31, 2017, Disney Ukraine released a video on Twitter. The video is identical to the "Lightning Strikes" teaser trailer, with the only notable difference being what Lightning McQueen is watching on Mack's television. In the Ukrainian trailer, Lightning is watching a video of Chick Hicks, but in all other versions, there is only a still image of a large rock foundation.
On February 1, 2017, Pixar announced a short called Lou to be shown in theatres with Cars 3.[22]
Gallery
For this subject's image gallery, see Cars 3/Gallery.
Title in other languages
| Language | Name | Meaning |
| --- | --- | --- |
| Polish | Auta 3 | Car 3 |
Trivia
This is the first time John Lasseter has not directed a film in the Cars franchise, exceptions including the Planes films.
References
Ad blocker interference detected!
Wikia is a free-to-use site that makes money from advertising. We have a modified experience for viewers using ad blockers

Wikia is not accessible if you've made further modifications. Remove the custom ad blocker rule(s) and the page will load as expected.