Cam Spinner
General Information
Gender

Male

Color

Blue, white

Eye Color

Blue

Occupation

Piston Cup racer

Series Information
First Appearance
Performer

Unknown
"I like racing. That's it. I just like it."
—Cam Spinner, Cars 3: Driven to Win
Cam Spinner is a next-generation Piston Cup racer. He is sponsored by TripleDent, after replacing Terry Kargas during the 2016 season. His racing number is 31.
History
Cars 3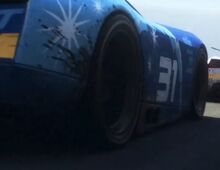 In Cars 3, Cam makes his Piston Cup debut as a mid-season replacement for former TripleDent racer Terry Kargas. He makes his debut at the Heartland Motor Speedway and finishes in thirteenth place. At the Los Angeles 500, he finishes in tenth place. In the Florida 500, Cam unintentionally causes a crash. He spins out of control and hits Tim Treadless and the Next-Gen Leak Less racer. They slide across the track and hit other cars, and Cam nearly hits Lightning McQueen. He then slides toward the wall, hitting Steve LaPage in the process. After that, he goes airborne and hits Harvey Rodcap when he gets back on the ground. He is severely damaged and does not finish the race.
Cars 3: Driven to Win
Cam is an unlockable playable character in Cars 3: Driven to Win. Like most of the playable characters, he is unlocked by completing an uncertain amount of skill checks.
Appearances
Gallery
Names in other languages
Trivia
Cam Spinner's name is similar to that of Cad Spinner from Planes: Fire & Rescue.
Early concept art of Cam depicts him with the number 2 instead of 31.
He is the only next gen racer who has a known name but is yet to have a diecast.