Arvy Motorhome
General Information
Gender

Male

Color

White, green, black

Eye Color

Brown

Occupation

Crazy Eight racer

Series Information
First Appearance
Performer
"Last car standing wins!"
—Arvy Motorhome, Cars 3
Arvy Motorhome[1] is a male 1995 Boxomatic Coach[2] who usually attends and enjoys the competition of demolition derby events at the Thunder Hollow Speedway. Arvy is one of Thunder Hollow's most loyal competitors, participating in derbies every Friday night.[2] He has a very old and rundown appearance with white livery, with light green and the number 00 sloppily painted on his doors. He also has a ring on his grille, resembling a bull.
History
Cars 3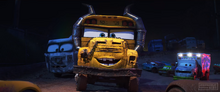 In Cars 3, Arvy is one of the many Thunder Hollow veterans who oppose Lightning McQueen and Cruz Ramirez when they unknowingly enter a demolition derby, thinking it was simply a dirt track race. At one point, Pushover lands on his roof, causing Arvy to exclaim, "Look at my new hat!" He is later eliminated.
Cars 3: Driven to Win
Arvy is an unlockable playable character in Cars 3: Driven to Win. He is unlocked once the player obtains 40 Skill Checks.
Appearances
Profiles and statistics
Bio

"Arvy Motorhome is an RV camper with an edge. He plays rough on the track alongside Dr. Damage and Miss Fritter, spinning and smashing the competition every Friday night at the Crazy Eight, to their fans' delight. Arvy is a formidable demolition racer, big enough to take on anyone insane enough to play along."[2]
Portrayals
Gallery
References